Editor's note: Despite Trump losing in Congress (he did not lose with the American people!) we will continue to follow, chronicle, and keep an updated list of ALL election fraud evidence as it comes out. Also, if you live in a state with election fraud make sure to KEEP THE PRESSURE ON your representatives to fix their election procedures. If they do not we will have one party rule forever. Also, please continue to PRAY that the fraud is exposed.
——————————————
Texas Attorney General Ken Paxon said he will sue the Biden administration over its "illegal deportation freeze." "Border states like Texas pay a particularly high price when the federal government fails to faithfully execute our country's immigration laws," Paxton wrote in a letter. Paxton remarked: "I won't tolerate unlawful acts from Joe Biden's administration. Today, I am taking action."
Immediately following his inauguration, President Joe Biden indicated a major shift in U.S. policy towards Israel. The title of the official U.S. Ambassador to Israel's Twitter account was changed to "The official Twitter account of the U.S. Ambassador to Israel, the West Bank and Gaza," in a complete reversal of policy Trump administration policy.
Biden spokeswoman refuses to answer abortion policy questions, whips out the 'devout Catholic' card instead
Trump Should Have Pardoned This Pro-Family Hero. He Didn't.
Editor's note: Please pray for the little ones! They need us on our knees now more than ever.
Republican Files Articles of Impeachment Against Joe Biden on His Second Day in Office
Biden Administration Tear-Gassed 'Peaceful Protesters' Just Hours After Inauguration
Steve Bannon's War Room Pandemic offered an interesting path forward for the Trump movement on today's morning show. The suggestion comes on the heels of President Trump leaving office and the inauguration of Joe Biden, and during and after the information operation being waged on the American people as we saw with the press narrative in reaction to the incident on Capitol Hill on January 6th.
An Orthodox Jewish critic who saw Bob's testimony on TV writes a comment on the Internet which Bob responds to. The challenge had to do with whether or not the Trinity can be found even in the Old Testament (TANAKH). The critic says "No." Bob says "Yes."
SUBVERSION: Bill Barr Told Trump Election Fraud Claims Were 'Bulls**t,' Protected BLM Rioters From Insurrection Act, And Blocked Snowden Pardon

Like many Americans, I've been in a funk since last November.  Now it's time to shake it off and re-engage.  George Washington presided over a series of lost battles and tactical retreats during the American revolution.  But each battle (regardless of outcome) weakened the enemy, and led to eventual freedom from monarchical rule.  The ruling class has taken an election, but they've substantially weakened their position in doing so.  It's time to take stock of our relative positions and move on. So, what is the left's position now?
Academic Study Finds Big-Tech Elites Are In Their 'Own Class', Different To Rest Of Humanity
Biden dives into identity politics with a health department appointment
Wow! Trump's approval at 51% in final Rasmussen tracking poll
FBI agent undermines Pelosi's claim of insurrection 'incitement'
Tyrants: YouTube extends Trump suspension for one more week
We are all White Supremacists Now
Wonderful: Biden education transition team leader big fan of CCP
Image: US Embassy in Mexico
One of the unsung wonders of the Trump administration is the congenial relationships he developed with nations around the world. It's not a coincidence that he did not start any new wars even as he never gave an inch when it came to American honor, integrity, and money. Things are going to be different with Biden, though. Even before being inaugurated, Biden had managed to put the U.S. at odds with Canada, Mexico, and Guatemala.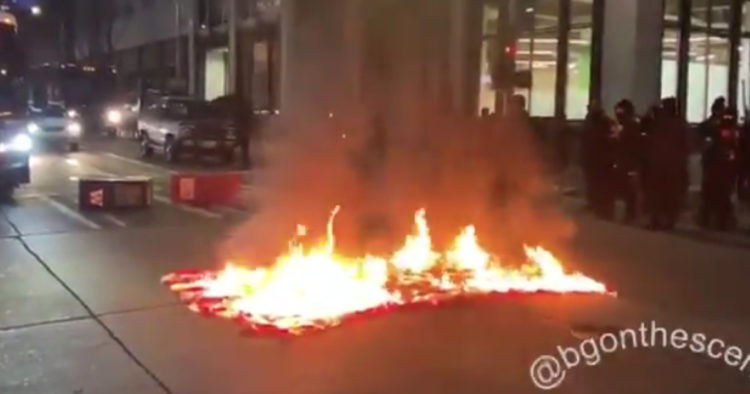 As Antifa violence grips Portland, Oregon following the inauguration of Joe Biden, more left wing Antifa members are taking to the streets in Seattle, burning American flags and blocking traffic, due to an apparent perceived disagreement with Biden and mainstream Democrats.
For six months, President Donald Trump pushed for a harsher crackdown on the riots raging across the United States, facing constant pushback from officials worried that would further inflame the chaos and lead to needless death. As Joe Biden takes the oath of office and Trump exits Washington, the outgoing president's dream is finally realized — ironically, too late to change a thing.
We knew it was coming, and it here it is, on day one. Promises made, promises kept! The US is back into the unfair, very expensive Paris Climate Accord.
Bob talks about the significance of January 20, 2021. Listen here!

President Donald Trump on Jan. 20 left Washington for Florida, hours before President-elect Joe Biden is sworn in.
"It's been a great honor. The honor of a lifetime. The greatest people in the world, the greatest home in the world. We've had an amazing four years. We've accomplished a lot. We love the American people, and, again, it's been something very special," Trump told reporters outside the White House.
"I just want to say goodbye, but hopefully it's not a long-term goodbye. We'll see each other again."

What does it mean to be "In the world, but not of the world?" Why are Christians persecuted? Why should we obey the law of the land? What if the law of the land is in conflict with God's law?
You can't make this stuff up: Jorge Ramos To The Caravan: PUMP THE BRAKES
President Trump Issues Executive Order for January 22, Two Days After Biden's Planned Inauguration, Proclaiming the Sanctity of Life
CENSORSHIP: CNN discusses plans to ban conservative news organizations, influencers
In the last of a series of parting blows aimed at Beijing, the Trump administration on Tuesday declared that the Chinese Communist Party's actions against Uyghurs Muslims constitute crimes against humanity and "genocide," becoming the first government in the world to make such a determination.
Bob is joined by co-host Jim Berrier to discuss what the Bible has to say about true and false prophets especially in the wake of so many Christians predicting that President Trump will serve another four years.
Today on World News Brief we discuss breaking news about massive foreign interference in our election, the attack on Trump supporters and call for a "ministry of truth," the D.C. militarized zone, and reasons why we should have no fear of the future.

Raw data analytics exclusively obtained by The American Report show that during the 2020 presidential election internet protocol (IP) addresses in China, Russia, Hong Kong, Germany, Canada, and the Czech Republic hacked into IP addresses in the battleground states of Pennsylvania, Nevada, Michigan and Georgia.
At least 14 people who President-elect Joe Biden has picked to serve either in his administration or to advise his transition have worked for the Big Tech firms that cracked down earlier this week on President Donald Trump and a social media site popular with conservatives.
Nancy Pelosi Hates Joe Biden. (How Else Do You Explain the Impeachment?)
WATCH: Katie Couric says Trump supporters need to be 'deprogrammed'
White House publishes YUGE list of Trump Administration accomplishments
'Kill All Republicans': Amazon Sells 204 Items Promoting Violence, Hate
'Ministry of Truth': Red flags over AOC's proposed commission to 'rein-in' media disinformation
Ocasio-Cortez and Her Media Ministry of Truth
Bob reads aloud a letter from GOP Chairwoman Ronna McDaniel soliciting funds for the 2022 midterms. After this, he reads aloud his email replay and then makes some additional comments. Listen here!
China's lucrative market and economic opportunities have kept the West distracted from—or tolerant of—its human rights violations, but 2020 saw people waking up to the severity of the matter and the communist regime's broader threat to the world, an online conference heard.
Image by wei zhu 
CGM News Archives
Visit the CGM News Archives for links to all articles that are no longer on the front page.